Audio Laser Clinic
Michael Zazzio at the Audio Laser Clinic, has since the end of the 1990's been working with examination and investigation of patients suffering from hearing and balance disorders. The patients are treated with laser therapy and pulsed electromagnetic field therapy (rTMS), which is determined to be evidence based regarding the treatment of tinnitus and pain.
Evidence-based guidelines on the therapeutic use of repetitive transcranial magnetic stimulation (rTMS). Lefaucheur JP et al. Clin Neurophysiol. 2014 Nov;125(11):2150-206. doi: 10.1016/j.clinph.2014.05.021. Epub 2014 Jun 5. The abstract is found on PubMed, PMID: 25034472.
Free radicals in blood are also analyzed and controlled at the clinic. Photobiostimulating laser therapy is the only known, non-chemical treatment method that brings along an increased ATP production in the cells and thereby increases cell activity, metabolism and synthesis in the cells of the body. The laser method results in a better chance for the cells of the body to repair themselves and to maintain optimal capacity.
Michael Zazzio is a medical researcher in the field of hearing and balance disorders and his clinical treatment study on hyperacusis (oversensitivity to sound) is published in the international scientific MEDLINE indexed journal Photomedicine ans Laser Surgery, Mary Ann Liebert Incorporated Publishers and the study PHO-2008:2347 is available for purchase at the homepage of the publicist. Zazzio M. Pain Threshold Improvement for Chronic Hyperacusis Patients in a Prospective Clinical Study. Photomed Laser Surg. 2010 Jun;28(3):371-7. The abstract is also stored on the PubMed, PMID: 19821704.
Three Spanish researchers have repeated the laser therapy part of Michael Zazzio's study regarding hyperacusis. The treatment results in the Spanish study are almost identical with those in Michael Zazzio's hyperacusis treatment study. The Spanish study is congress reported at the 7th TRI International Tinnitus Congress in Barcelona in May 2013.
Michael Zazzio is lecturing about research and treatment of hearing and balance disorders and free radicals / antioxidants and their importance for healing / cell repair and for the development of diseases and disorders. Michael Zazzio is also lecturing on the issue: health care law within the European Union and its' importance for patients as well as for medically registered health care workers' rights and possibilities within the European Community.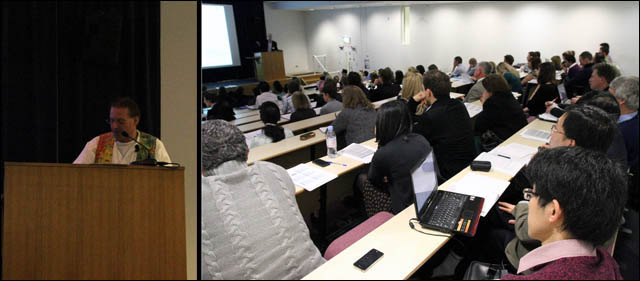 Michael Zazzio is holding his speech, in London in March 2013, as an invited speaker at the first international conference on hyperacusis.
Patients who are eager to come to the clinic for a treatment should come to an examination before the treatment is planned to start. The clinic is trying as far as possible to treat as many patients as possible, and especially severe cases that requires instant treatment (such as sudden defness and sensorineural hearing loss that has recently struck the patient).

The next regular treatment period
The next therapy semester, autumn 2023: 15 Sep - 30 Nov.

Due to the risk for contageon only non-Covid-19-vaccinated patients have access to the clinic. We regret this, but the unvaccinated staff and unvaccinated patients must be protected from mRNA spike proteins and other contageons.

Schedule an appointment
You can schedule an appointment by making a phone call to the clinic on phone hours. You can also schedule an appointment for examination and treatment by sending an email to the clinic. If you need an urgent contact with the clinic, or an instant answer to a question, then you should make a phone call to the clinic, instead of sending an email. Emails are answered as soon as possible but there are not always a possibility for a daily check of emails.